Custom Soft Enamel Pins
Free shipping on orders over HK$399 . ✓ Free Preview . No Payment before Confirmation of Production
Get the pricing now!
–
Description
Custom Soft Enamel Pins
Send us your artwork and get ready to receive the products.
For Events
Common for all events, groups, societies and art works!
Get a Quote Now
Get an immediate quote before order!
Free Local Shipping
Order over 100 pcs with less than HK$19.7/pcs. Free shipping with orders over HK$399.
Scroll down for Soft Enamel Pins Options!
Different colours are separated by embossed metal lines.
---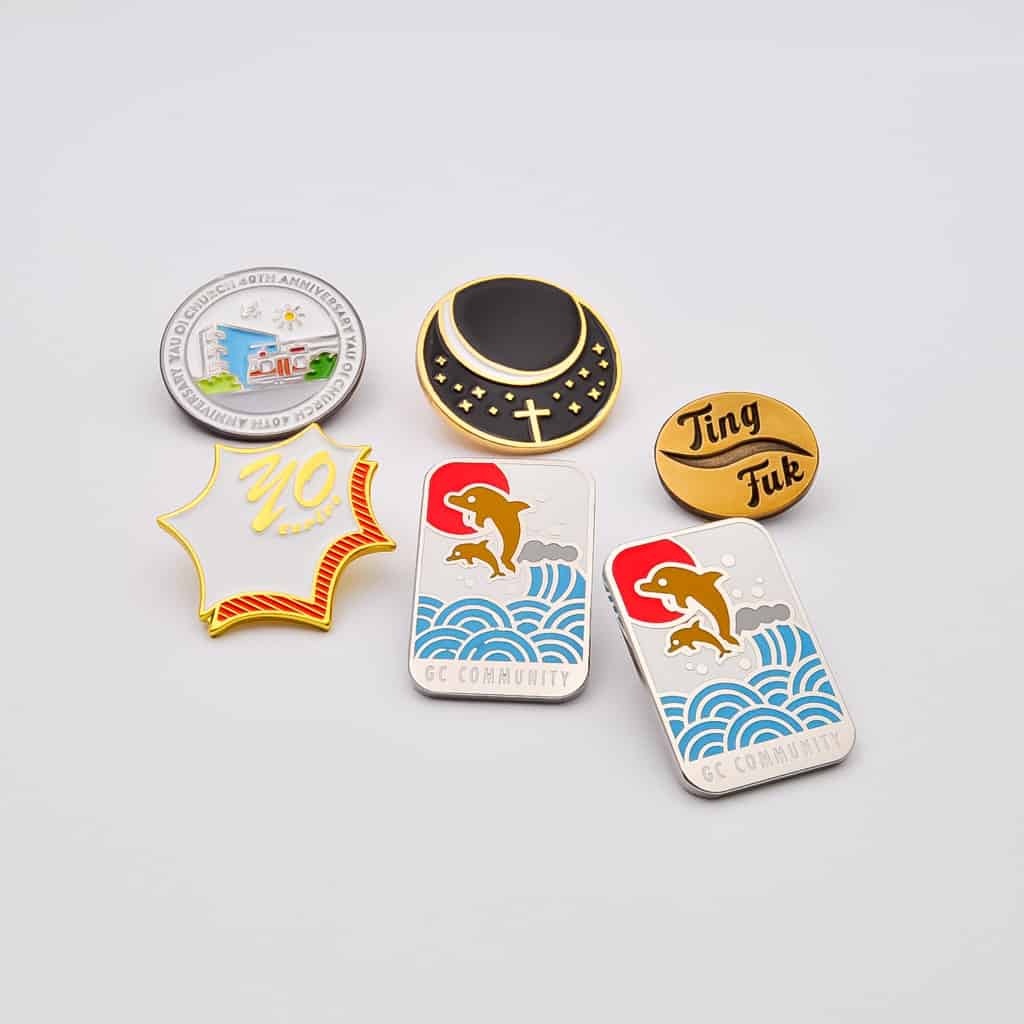 ✓ Texture
All metal lines will be embossed, making the pin more stereoscopic.
✓ Fine Detail
The metal lines can be made with even 0.13mm
✓ Most Common
Soft enamel pins are the most common type of pin. 
Electroplating Colour is the colour that will be shown on the metal lines of the pins
---
sense of luxury
The most popular
sense of elegance
With Reflective Effect
With no reflective effect
All the pins will be packed with OPP bag individually to avoid any scratches during transit. We also provide different packaging option for your needs!
---
Unique and Individual Packaging design with 260gsm card (+$2-3 each) *based on card size
Luxury Box Packaging ( +$10 each)
Transparent Plastic Gift Box
Economical Choice with Decent Packaging (+$2.5 each)
OPP Plastic Bag (individually)
Place your order in 10 mins!
Honour keeps simplifying ordering process to save your precious time
Add on your own Logo and Words on the Back
---
With a Smooth Texture (+$2 each)
With a Embossed Texture (+$2 each) *the backing design must be the same for whole order
Most common Pins' backing with golden or sliver colour
Provide extra safe when you pin it on clothes
Using magnetic force to keep your pins being attached on your clothes
Let your pins be a keychain!
To Ensure a Smooth Production
---
A minimum of 0.13mm for all lines (fonts included)
A minimum of 0.5mm for coloured part
Colours will be separated by metal lines
Contact us for discounts for orders of more than 1500 pieces.
Confirmation message with a product preview will be sent 3 days after placing the order
Production period will be 15–18 working weekdays after the confirmation of the preview.
Preview will be sent after placing an order
---
All you need to do is send us your artwork only (no matter if it is a logo or just some words)! Please note that we may make some minor adjustments to your design (e.g., thickening the lines and simplifying the design). Rest assured, we will provide you with a preview before the production starts.
There is no limitation of the size, we will follow your needs when available, however, do note that, the bigger the size, the higher the size will be.
Normal Production would last for 15- 18 working weekdays (1-2 more working weekdays is needed for orders over 1000 pieces). Please also allow more time for the customer quality checking period.
We offer free sample or photo for order over 300pcs (please allow 10 - 12 working days for sampling process , mark 'sample needed' in the notes), For order below 300pcs, we will provide digital proof for confirmation.
Sampling time: 10 - 12 working days 
Production time: 15 - 18 working days after sampling or digital proof confirmation.
* There will be $200 - $500 extra cost if design need to be modified after sampling.
Notes for Soft Enamel Pins
---
✮ Embossed metal lines with debossed color filling.
✮ Soft enamel pins allow for more line and texture detail.
✮ The Most Popular Size: 30/37mm (you can also customize your pins' size)
-
✮ Embossed metal lines are used to separate different colours *No Gradient Colour
✮ We use Pantone C as colour standard. If you would like to have specific requirement, just leave us a message! Our staff can finish the colour matching part for you too!
-
✮ Minimum thickness of metal line: 0.15mm
✮ Minimum size of debossed part: 0.5mm
-
Production takes for 15- 18 working days (1-2 more days is needed for orders over 1000 pieces). Remember to place earlier for larger order!
✮ Scroll up for more backing, packaging and colour choices!
▴▴Not sure if your design is able to make soft enamel pins? You can receive a digital proof for preview in 2-3 working days after placing an order! No payment is needed before the production.
Soft Enamel Pins provide BUMPY texture
Need for SMOOTH texture? Check Out: Hard Enamel Pins

The product made by our customers may provide you a reference
---
Shipping & Return & Payment
  Payment 付款安排 :
We accept Paypal, Bank Transfer and FPS transfer
以下的資料將會在下單時提供
 Shipping:
Free local shipping on orders over HK$399
HK$30 shipping fee when your order is below HK$300
以下為寄件安排 –
工商地址 : 順豐或本地速遞
順豐智能櫃, 順豐站以及住宅地址 : 順豐快遞
於正常情況下,貨品會於寄出後,2-3個工作天內送到收貨地址。香港偏遠地區,可能需要額外的3至4個工作天送抵。
 退貨安排 Shipping :
如客人收到瑕疵品, 可以先拍照跟我們聯絡, 我們會再商討解決方案
而因訂制產品重做需時, 如因瑕疵問題決定重做, 時間上都會跟做貨時間一樣
**必需於30天內提出**
第一次訂? (設計指引)
襟章常見尺寸 : 30 – 37mm
建議數量 : 50或以上
(我們是按數量以及尺寸計算費用的, 數量愈多, 單價愈便宜啊!
同樣地尺寸愈大, 單價費用亦會提高, 而訂購100個或以上, 價錢會比較相宜啊)
⽽50個以下價錢就相對較高了 ~
Design Tips –
金屬線條 : 0.12mm
上色位置 : 0.3mm
下單後1 – 3個工作天內就會收到電子圖稿作最後的確認。圖稿確認後,15 – 18個工作天就可以收到實物啊。
顏色則會以PANTONE為準, 但因考慮到人手調配以及電鍍顏色的影響, 實物或會有輕微色差。
Artwork Submission
圖稿要求 :
– 盡量提AI格式的圖檔
– 如未能提供AI格式, 其他格式如 : PSD, PDF, PNG等均可接受但請上傅不少於400dpi的圖像, 以確保產品質素
– 如未能在網頁上上傳, 提交訂單後你亦可以透過電郵把檔案SEND給我們 [email protected]
⚠注意, 傳送圖稿時請把Order number附上, 方便核對圖稿, Order number 會在確認訂單後經電郵傳送
– 圖稿安排需要約1-3天的時間,圖稿完成後我們會以電郵形式發送,請客人記得查閱以及盡快回覆作確認啊!
Great customer service and fantastic products!
It was my first time working with Honour and I am completely satisfied with their service! Their staff gave timely replies regarding any shifts or changes that we wanted to be made on our design. The finished products were lovely -- good details with accurate colors. Can't recommend enough!
Thank you so much !
I always wanted my own pins !! Thank you Honour for doing a great job.
The quality of all the pins are wonderful, the staff was very helpful and polite.
Good service!
The quality is good and the service is good too!